admin
2 năm trước
Free Fire – Wild Action and Adventure
Download Free Fire and play in 10-minute battles against 49 players to show your skills and defeat them all. Utilize different items to defeat your opposition.
Advertisement
Advertisement
Crucial Information About the Game
Advertisement
Free Fire is a popular multiplayer and battle royale game, also known as Garena Free Fire, or Free Fire Battlegrounds. 111 Dots Studio developed the game, but it was published by Garena before its release for Android and iOS devices. It is important to note that the Beta version of the game was first released in 2017.
Free Fire is an award-winning game with so many awards to show for it. The most recent of these awards is the Best Popular Game, which it got from Google Play Store in 2019.
Advertisement
Asides being an award-winning game, this game has also set groundbreaking records. It recorded more than 80 million active daily users from different parts of the world by May 2020. Also, it is currently more than $1 billion worldwide.
This game is a mobile game, and it requires very little for both Android and iOS. It is important to note that it has recorded over 500 million installations on Google Play Store alone. Also, the minimum requirement for Android devices is nothing less than an Android version 4.0.3. The latest version of the game on both iOS and Android is version 1.52.0.
On iOS devices, the minimum requirement is nothing below iOS 8.0. Free Fire is compatible with iPad, iPhone, and even iPod Touch devices.
So much was put into consideration during the design of the game. This is to ensure easy access to the game irrespective of the device you use. For example, the graphics of the game is suitable for both low and mid-range mobile phones.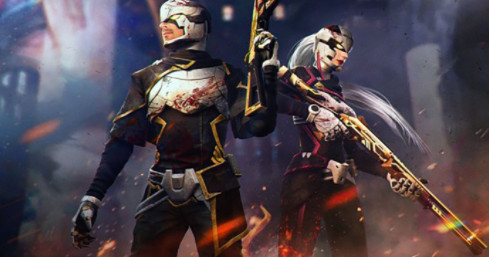 Free Fire is a perfect game for people who love battle royale games. It boasts of exhilarating gameplay, and this is one of the factors that make the game popular. A list of the most popular battle royale games of all time cannot be made without including Free Fire.
Advertisement
As of 2018, Free Fire was the fourth most downloaded game on both Google Play Store and App Store. Also, it recorded downloads of over 180 million in 2018. This increased its rank, and the game became the second most downloaded battle royale game on all mobile platforms.
The revenue generated by this amazing game has also seen huge growth within the past few years. Free Fire grossed a monthly revenue of about $19.3 million in 2018. However, this number skyrocketed in 2020, with the game recording more than 500 million downloads on Android devices.
This game is for you if you are looking for a fierce shooter and survival game on your mobile device.
Exciting Gameplay
As mentioned above, this game is an online action and adventure game. It is also a shooter and survival battle royale game. Free Fire is played mainly in the third-person perspective. This is a game that involves up to 50 different players.
The game begins when these players fall from a parachute. These players will land on an island where they'd look for different equipment and weapons. This is the most vital part of the game because it is what will determine your efficiency in the game. With these weapons and equipment, you can easily kill other players.
What's amazing about the game is the fact that you can choose your start point. Also, you can increase your battle life with the supplies and weapons you gather after landing. Players enter a plane as soon as they join the game. It is important to note that the plane will move over the island.
Players can decide where they want to land as the plane flies over the island. All they have to do is jump out of the plane at desired spots. With this, players can strategically land in areas without enemies. The first thing to do after landing is to gather weapons and other items.
It is worth noting that there are different weapons and equipment spread across different parts of the island. This includes grenades, weapons of different sizes, and medical equipment. There are also several other useful items that are spread across the gaming island.
Free Fire is an amazing game, and the main objective is to fight and become the last surviving player. This implies that you must eliminate every other player you come across when playing the game. Surviving in the game should be your main goal because other players will try to take you out.
There are other features that make the game to be challenging. For instance, there is a safe area that is featured on the gaming map. This safe area continuously reduces in size as the game progresses. The aim of this is to bring players closer to each other in tight corners. With the safe area feature, you can rest assured that you'd come across a player to eliminate.
Another thing to note about the game is that players can drive vehicles in the game. This makes it easier for players to explore the vast gaming map, and also attack other players with the vehicles. There are different modes to enjoy in this game. You can play in the 4v4 mode of the game and make your team become the only surviving team.
Where to Get the Game
Free Fire offers exhilarating and exciting gameplay, as shown above. Be part of the millions of people across the world that play this amazing game. You can get the game on your iOS or Android device through the following link. Visit these links now:
– Android:
https://play.google.com/store/apps/details?id=com.dts.freefireth&hl=en
– Apple Gadgets:
https://apps.apple.com/us/app/garena-free-fire-3volution/id1300146617
Conclusion
Download Free Fire now to experience a different type of action and adventure. Enter the play island of this shooter game and survive by eliminating other players.
Advertisement
46 lượt xem
| 0 Bình luận